Blog{azine}
Forever Young - Wild and Free
Forever Young is a place for teens. My Forever Young photoshoots are my way of helping to build confidence at this time of your life. Here I have created a blog/magazine - "Blogazine". Every Blogazine post will feature everyday down to earth people that I have photographed and with the help of lots of talented friends I will share tips, ideas and experiences that will help you along your life journey.
Feel free to browse through the articles and take from them what you please.
I would also love any feedback, and topics you feel important to you - all emails and messages remain confidential.
Thanks and Enjoy!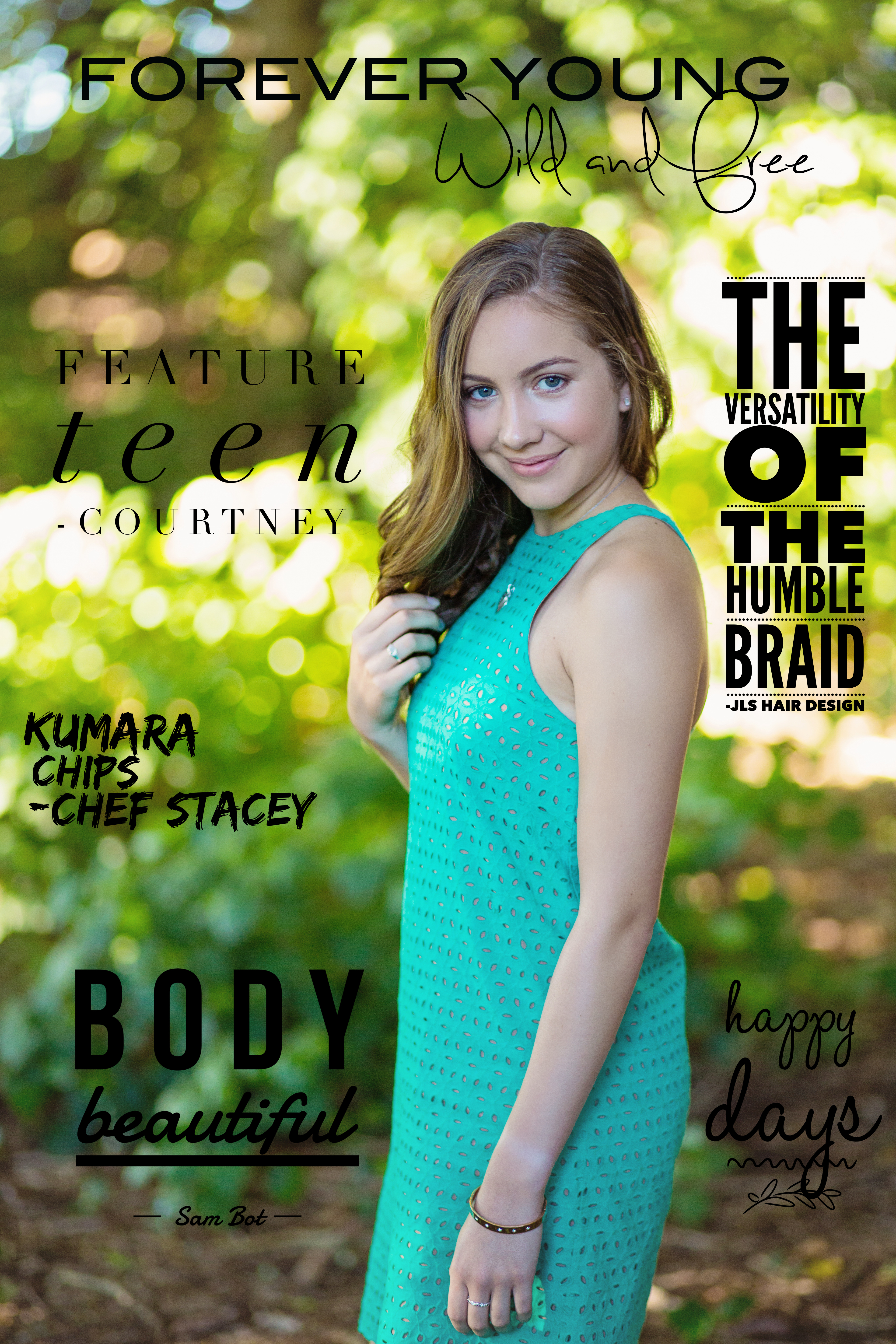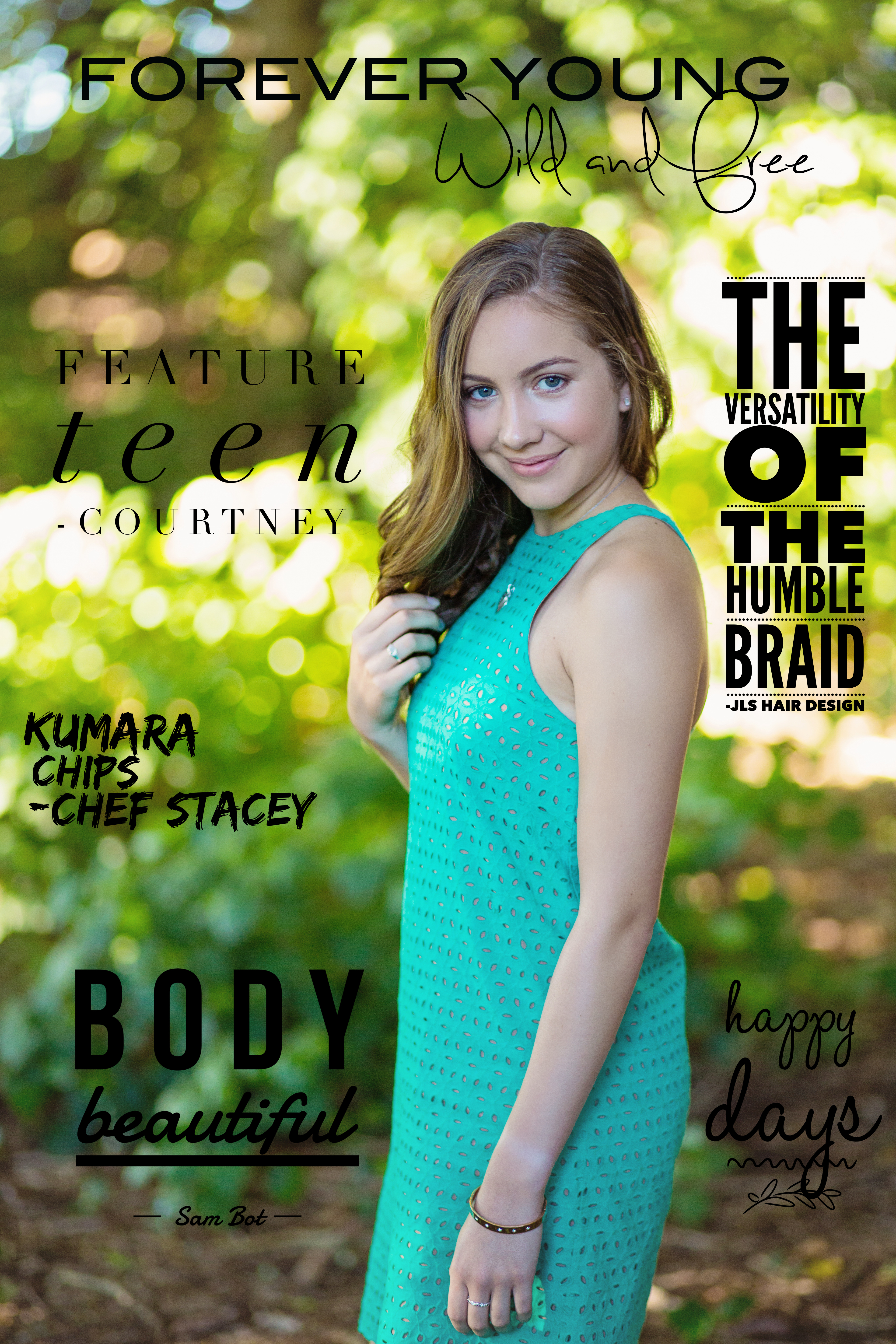 COURTNEY
Courtney is one of my Teen Reps that are helping me promote my teen photoshoots.
After Courtney had her hair and makeup with Kasey we headed up to the jungle for her Forever Young Teen Photoshoot!
Here are a few fav's from the shoot...
Here is our little interview!
[Me] What is your favourite food?
[Courtney] I really enjoy a good dessert! My favourite dessert is probably a really chocolatey and rich cheesecake! I also LOVE strawberries.
[Me] What's your number one played song at the moment?
[Courtney] Probably Shape of you by Ed Sheeran.
[Me] What is one of your favourite quotes?
[Courtney] "When you stop learning, you stop growing" I can't remember where I heard it but I think that it is truly something to live by.
[Me] What is your favourite outdoor activity.
[Courtney] Wake-boarding! Unfortunately, it is seasonal so I only really go out during summer.
[Me] What chore do you hate doing?
[Courtney] The dishes after cooking or baking!
[Me] What is your favourite form of exercise?
[Courtney] I love running or Pilates. Running is great if you want to break a sweat but Pilates is low impact and gentle on your body.
[Me] What do you want to be when you finish school?
[Courtney] I would like to be an investigative Journalist.
[Me] If you could meet anyone - who would it be and why?
[Courtney] Karlie Kloss. She just seams like such a fun person to be around and I find her really inspiring. She does a lot in her life and utilises her publicised platform as a way to help empower others.
[Me] What sound do you love?
[Courtney] I love the sound of Cicadas! It seams really strange but it reminds me of summer and going to the A & P shows when I was little where the cicadas seemed so loud they drowned out any other noise.
I caught up with my good friend Sam, who is also a personal trainer. We always have interesting conversations and one topic we have discussed often is body image. This is something Sam is really passionate about, so I asked her to put a few words together for the Blogazine!
I am Sam, a Personal Trainer. I deal with Bodies everyday. The fitness industry is tough. Body image is everything. Beauty is determined by how skinny you are or how low your body fat % is…RIGHT???
WRONG!!
It is my mission, No wait… It is my PASSION to try and change the perception of our modern society. To build the next generation up to love themselves for being who they are, to celebrate and appreciate all that is them, and most of all to accept what they are and what they can achieve. Not how good they look on Instagram! #perfectionis…
Social media has really thrown us a curve ball! There is no escaping the public eye. Always on display, always on show and for some reason others weighing in on this; making judgments on how someone looks, their weight, their food choices and how they raise their kids, has become 'normalised' and everyone seems to have an opinion..
But when did this become ok? Furthermore, When did it become normal to judge ourselves so harshly, when did it become ok to pick ourselves to pieces and allow others the same opportunity???
If I could tum back the clock 18 years… I would be so kind to my 15-year-old self. My journey would be paved with self-love and appreciation. I would take such care of my body, preparing for the challenges it will face in later life! I will build an army of beautiful and confident woman to stand my side and help me through the tough times. *Because trust me there will be tough times. And, guess what; lots of these times getting out of your PJs is the least of your worries. your looks cant help you through these…
I want to stand in front that mirror and truly believe the words I am speaking from my favourite quote.
"I love all these dark parts of myself not because they are wonderful and adorable and perfect and fantastic, but because they are THERE. My dark bits are with me and they will likely always be with me. Just as your dark parts are with you and will likely always be with you. All that is there needs to be loved"
And That's OK.
It's not ugly fat or gross it's a FEATURE.
Our humanity is not an ERROR. Our crazy thoughts are not MISTAKES. Our scary longings and giant failures and ongoing disasters are not ABERRATIONS.
This is merely what it is to be a person — messy, weird, inconsistent, and doubtful. This is how we ARE, and that has to be OK, or else nobody is OK."
(Anonymous quote)
So live!
Live free and in love!
Eat and exercise to nourish, not to punish. Stand tall, smile and be kind to yourself.
Beauty is not hiding in the bottom of those size 6 skinny jeans. Or in the bottom of your compact foundation.
There is beauty in all of us; more than we could ever imagine. BUT only you can find it and let it out…
And when you do… Cherish it for the rest of your life. And share it as far and wide as you can.
Your looks will fade, your weight will fluctuate; and the media will continue to push unrealistic expectations of beauty… we will forever be dangling on the edge of what others deem "perfect"…
But trust me when I say. LOVE for yourself, RESPECT for your self and CONFIDENCE in yourself is more beautiful than anything any piece of clothing, jewellery, or make-up!
And I am CERTAIN that everything you want for your life — everything you want to feel and believe and become — is on the other side of that self-hatred and self-doubt. It is waiting to fulfil your every dream!
Sam x
These are seriously so yum! and will convert the biggest Kumara hater into a lover!!! So yum, So good for you and So easy!
Kumara is a root vegetable most commonly grown in the Northern part of the North Island of NZ. It is said to have been brought into the country abroad the Waka [maori canoes] by the early Maori settlers, it has been cultivated in NZ for hundreds of years and is far superieor to its cousin the potato!
Give these a go and tell me how much you love them!
YOU WILL NEED:
Frying pan - I use an electric one, but any will do.
Coconut oil - enough to cover the bottom of your pan about 1.5 cm - 2 cm deep.
Kumara - now I would say ONE Kumara serves ONE - however you are going to find it so easy to eat 3 or 4!
Potato peeler.
Salt - I use Himalayn Salt.
Oven dish.
Paper towles.
Large sieve.
Tong.
WARNING - make sure you are not starving when you make these, otherwise there will be no end product to serve!
STEP ONE
Put the coconut oil into your pan and heat up! You will need it on a medium heat - you dont want it too hot or else they will burn really easily - be very careful with hot oil too!
Take your Kumara - I like to leave the skins on, but you can peel them if you prefer - all you do here is keep peeling the Kumara until you can't peel anymore because its getting too small! [I keep the last bits and save them for another meal]
Peel them all onto a paper towel.
Grab your oven dish and line it with paper towels before you start cooking.
STEP TWO
Once the coconut oil is nice and hot [but not too hot] gently place the Kumara peelings into the oil - you will know its hot enough because they will start to lightly simmer - try to place them so they are not over lapping each other.
Don't go too far! They won't take long to cook! - once you see them starting to brown and crisp up you can turn them over.
Once they are cooked - they will look nice and crispy like a chip you can take them out.
Have your sieve ready - I take the chips out with some tongs and place them into the sieve [holding it over the pan so the coconut oil drips back into the pan]
Give them a little shake then turn out onto the oven tray lined with paper towels.
Give them a sprinkle with salt - then continue cooking the rest of the chips.
When they are all cooked - if you have any left!!! Pop them into your serving dish and serve up and enjoy!
If you want to save them for a few days - leave them on the oven dish and place them into oven on a low heat to dry out a little more - once cooled store them in an air tight container for couple of days!
ENJOY X
GIRLS - if you have long hair read here!!!
Jade from JLS Hair Design talks about the versitility of the braid!
The Versatility of the Humble Braid
So many options, so many different ways, whether it's a beach day, town day, chilling with your mates or a formal occasion. You are guaranteed to find a braid or braid variation to fit the occasion.
Below are a few techniques for some of the more popular braid choices
Three Strand Braid (your regular braid or plait)- Taking three sections of hair, alternate passing one section from either side over a center strand.
French Braid- A braid that continually incorporates strands of hair into the three-strand braid. Each time you pass hair over the center strand, you are going to take sections of more hair & add it in. This particular braid can be a little tricky when you first start out, as it has the tendency to fall apart if you don't keep the tension tight.
Dutch Braid- The Dutch Braid is basically a French Braid, but instead of passing the hair over each strand you are passing it underneath, creating the braid to sit on top of the head instead of weaving in towards the head.
Upside Down Braid – can be done with either of the above braiding techniques, starting from the nape of the neck & working your way up. It may be easier to flip your head over for this one, to help with keeping that tension.
Fishtail Braid- Is created by splitting the hair into two sections, then taking one strand from the underneath of one of the sections & passing it over to the top of the other section. Repeat taking strands from alternate sides, continuously until you reach the bottom.
All three styles featured in this month's Forever Young Blogazine were created incorporating a braid in some form.
Why not get some friends together, with YouTube & get practising on each other?
If you are interested in a lesson with Jade about how to braid your own hair pop me a message for more details!
So you may have noticed that every Blogazine I have posted I have these little positive affirmations in-between each article... and if you follow my FB page you would have noticed that every morning this month I have been posting a positive affirmation.
Positive affirmations are an easy way to add a little more happiness to your life! They make you feel good when you read, write and think about them! I set a little challenge for the month to read out allowed the positive affirmation every morning you see it on my FB page then follow up with 5 things you are grateful for - Did you do it? I did! The positive affirmations were such a nice reminder every day and always set a smile on my face when I saw them.
As promised I have a little gift for someone that has read and liked the FB post all about it - there is still time to pop on and have a look and give it a big thumbs up! On the last day of the month I will pop up a video and announce the winner of the little prize!
The prize is positive affirmation cards made by me! Complete with jute string and mini pegs so you can make your own affirmation bunting to hang on your wall... and a copy of my little book called "The Happy Book"
That brings us to the end of another Blogazine!
If you want to see some more photos from all of my Teen Photoshoots, click here
Feel free to leave a message! If you would like to contact me about your own Forever Young Teen photoshoot feel free to do so!